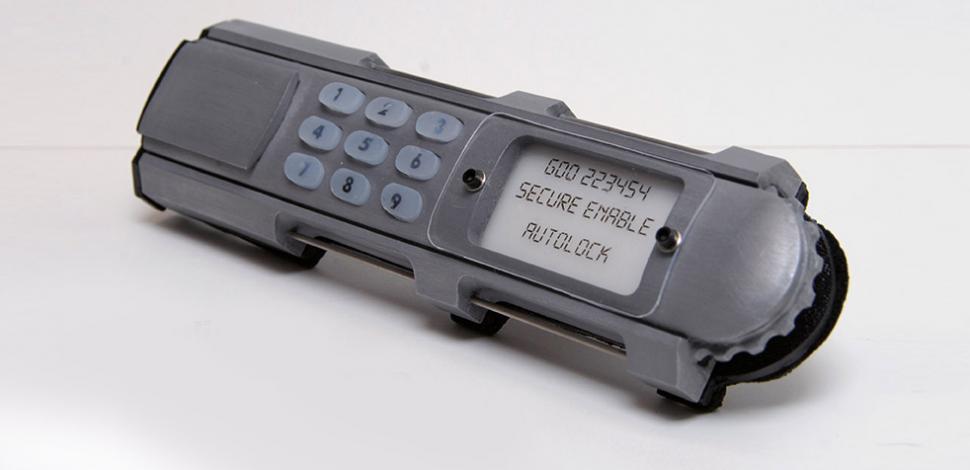 What do you get when you make a G.D.O. from the original studio mold? Simple: The most accurate G.D.O. prop replica ever made. Using the original studio mold, we recreated the shell of this crucial piece of Stargate tech, and then decked it out with screen matched parts for the ultimate collector's piece. Every component, down to each individual screw, was carefully matched to the original to make a stunningly accurate replica. Oh, and we made it light up.
Here's what makes up the SG1Props G.D.O.
Body cast from the original studio molds and milled hollow. Base plate and end cap also derived from the original studio mold. Base plate includes the same plastic texture as the original hero prop, even though only a small portion is visible (every detail was considered).
Number keys are also from the original mold, and are cast in transparent rubber. Numbers are not painted on like the original, however; and are instead imprinted just below the surface of the rubber, ensuring that they can't wear off.
LCD screen has been mocked up to show the same message as the original prop, and is interchangeable to three different messages seen on original G.D.O. props!
The screen is protected by an acrylic shield, beautifully curved over the body of the G.D.O. with rounded off corners just like the original.
End plate features a real working switch matched as close to the original prop as possible. Also included is a mock electrical port closely matched to the original.
Features electroluminescent lighting just like the original prop. Yes, it lights up! Powered with an internal, replaceable battery.
Underside of the prop is coated in a foam layer which has been taken from the original mold. Yes, even the foam backing is cannon!
All 12 screws and washers have been screen matched for accuracy.
The main body is finished with a brushed aluminum finish to mimic the metal hero prop. It is not not painted, but actually finished with real aluminum.
Embedded metal side rails are made of titanium for the ultimate in durability!
Velcro straps manufactured by Stitch's Loft.
Comes complete with a battery already installed. Spare battery included. Also includes a hex key to remove the battery compartment screws, a hex key to remove the plastic face shield, and 3 different screen choices which can be changed out to display different status messages.
Prop is currently shown without the black cloth straps, but photos will be added soon to show the straps. With straps installed this prop would make the perfect companion to any Stargate SG-1 offworld costume, and can be worn over or under a jacket.
A considerable amount of time has been invested into making this replica something truly special.
email [email protected] if you have any questions.
Check out a demonstration of the GDO and the new Stitch's Loft straps from Stitch himself!