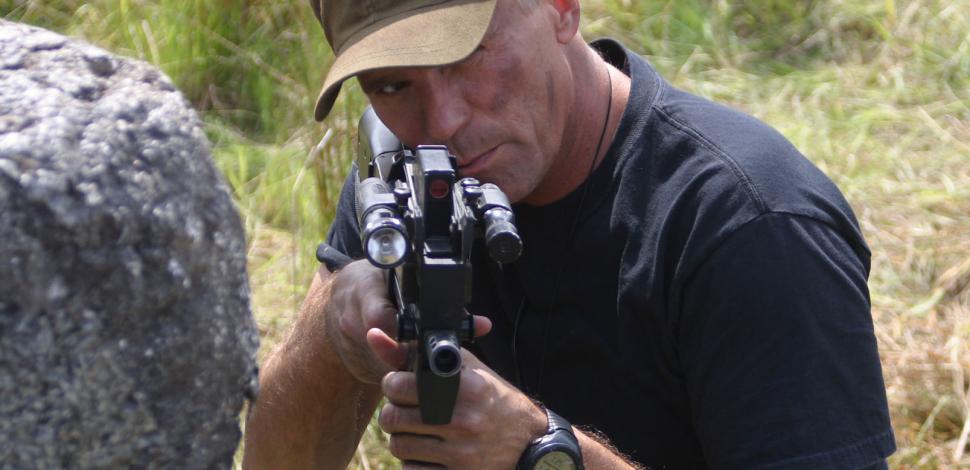 Hit More Targets
The P90s carried on Stargate SG1 were normally equipped with both a tactical light and also a laser sight. A laser sight assists the SG team member with rapid target acquisition in a firefight, and also helps hitting a target at long range.
On the show they used two types of laser sights: red lasers and green lasers. Red lasers have a long history of being used on weapons systems since their advent, green lasers produce a more visible light, and are better suited for daylight operations. Both versions could be enhanced with pressure activated switches allowing them to be turned on or off with just a movement of the finger.
Which model was used?
In Stargate SG1 they used long tube style laser sights on the P90. We have not identified the correct red laser sight, but have found several commercial models which are similar. We recommend any of the following brands and models:
Shadow Walker G-Sight. At around $25 this red laser sight is a steal, and is your best bet for something similar to the long red laser sight used on SG1 (Below shown far left)
Leapers SCP-LS268. A short laser sight. Similar to some of the ones sold by Propworx but not matched to any screen used units. (Below middle)
LXGD JG-11. Another short laser. It has a sleek tube so at least it doesn't stand out as being inaccurate. (Below far right)
Screen Accurate Green Laser
We identified the correct green laser from Stargate SG1 as the BeamShot GB1000 with the BeamShot M1 mount (packaged at retails with the BG1000 but also available separately). This laser is still manufactured, and can be purchased from Optics Planet or other sporting goods retailers.
The GB1000 was used with and without a pressure switch. When used with a regular tail switch, the button was red. This is not consistent with the switch currently made by BeamShot. Either BeamShot stopped making a red tail switch, or the set armorers painted the switches red.
Replica Laser Sight
We took an original GB1000 and produced a solid resin replica as a cosplay safe alternative to using a real steel green laser. We do not recommend carrying a real green laser for cosplay because of how powerful the laser is. If accidentally lit the laser could easily cause blindness. If you cosplay with a green laser you should consider pulling out the battery. These lasers are powerful.
Our replica is a faithful reproduction of the original laser and mount, and is accurate right down to the placement of the laser inside of the mount. It is a four piece set, which includes the laser, a retaining bracket, thumbscrew and bolt. It can be installed and removed from the P90 or any other prop firearm with a standard picatinny rail.