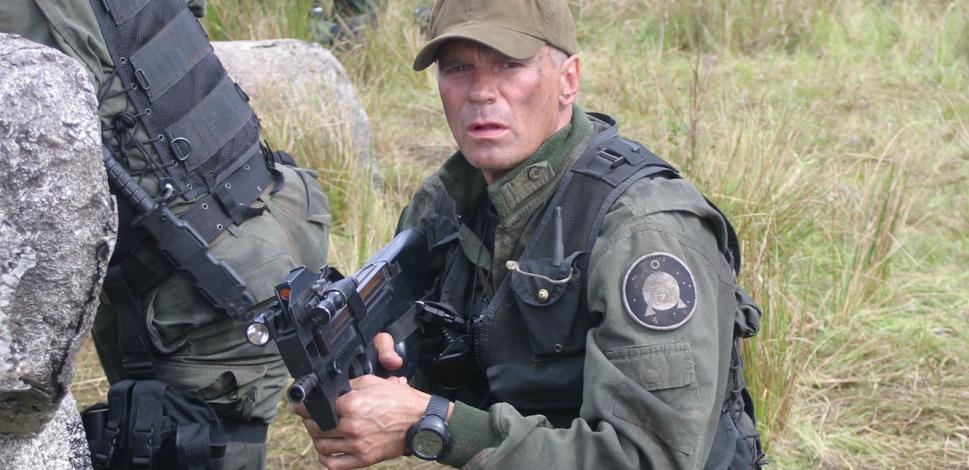 In the beginning
At first, the options for the SG fan were either to buy the Tokyo Marui automatic electric gun (AEG) or the much rarer ToyTec gas operated rifle (both made in Japan and modeled after the real weapon). Although the ToyTec versions are less expensive, some felt that it wasn't up to par cosmetically with the Tokyo Marui AEG.

And so what's the price of being choosy and wanting the best? A fan who wanted a TM P90 in his or her collection would be looking at spending over $250 minimum to have a gun imported. To make matters for the collector even worse, US import laws for airsoft guns are tied in with trademark laws. So, airsoft guns that haven't been properly licensed must have their trademarks removed prior to import. Otherwise there's a risk of having customs remove the trademarks themselves or possibly confiscate the gun altogether.
A canon... cannon
This is the way that things went for a few years, and most prop collectors and costumers were unable to afford the TM P90. So only a few in the hobby had them, and no prop makers with the skill to reproduce a static version were interested in doing so. And then, making the gun even more rare, Tokyo Marui had problems with getting the sights made for the original version, ending up with the gun being taken off of the production line and sending the value of used guns through the roof (with a used P90S sometimes selling for between $300-$500). The TR model was, however, still manufactured. NOTE: As of 2008 the P90 Standard version is once again being manufactured by Tokyo Marui, thus making it available at regular prices once again.

Later on, in 2004, salvation came for the budget orientated fans, and a low end AEG (LPEG) version of the gun was released. Manufactured in China under the brands CYMA, Well, V8 Sport, this airsoft became an excellent and cost effective solution for fans who needed something for their costume. However, the gun was modeled after the triple rail version of the P90 that had been released by TM. So, instead of having a P90 that was accurate to the one being used on SG-1, most fans were resigned to using a TR version of the gun.
The SG1Props solution
After over two years of research and development, Stargate fans and prop collectors can now own a realistic—and SG-1 accurate—version of the P90. Built using our exclusive upper receiver kit, and a low end airsoft P90 body, the sg1props.com P90 is a low cost alternative for collectors and costumers who don't need an expensive airsoft gun. (Airsoft body not included.)
Constructed from resin (plastic) and metal, the kit contains 18 different parts. Including custom machined metal cocking rails that are fully functional when installed.
Resin P90 upper receiver with full trademarks
Solid resin scope with "Ring Sights" trademarks and two oxidized black metal screws
Threaded resin P90 flash hider
Resin charging handles with two steel screws
Custom machined metal charging rail capable of sliding back and forth when installed
Two sets of resin side rails with four oxidized black metal screws
Faux gas block used to secure the receiver to LPEG airsoft gun body, and add realism
Resin trademark plate to add realism to your LPEG P90
For all skill levels
Kits are available as "Finished" or "partially-finished" kits. Best of all though is that either kit can be easily used without having advanced knowledge. All you need to finish the partially-finished kit are some basic tools. I do all of the hard work for you.
Partially Finished Kit: All cutting/drilling is done, all screw holes are drilled and tapped (threaded). All you have to do is some light sanding/trimming of resin at the seam lines, filling of small air bubbles and subsequent sanding. Requires fine grit sandpaper, sharp knife/razor (Exacto type is ideal), and a putty material to fill minor holes (Bondo automotive putty or similar). A small jewelers file is helpful as well. Resin will be dark gray or black, but all components will need to be spray painted after finishing.
Finished kit: Comes ready to assemble and mount to your P90 body. All parts are fully drilled, trimmed, filled, sanded, and sprayed with Krylon flat black paint primer. These can be top coated with a layer of black spray paint or left as is. Screw holes are also tapped (threaded).
For details on ordering a P90 kit please e-mail [email protected].